Looking for a new driving iron, but not sure which is right for you?
In this guide we've picked out the 5 best driving irons for the 2023 season, with options for all budgets and skill levels.
Let's get started.
Bottom line
A driving iron is a good addition to most bags, but is particularly useful for those who lack confidence with their driver. The low flights (although not as low as traditional long irons), and flat landing angles provide plenty of roll on firm fairways, giving ample distance off the tee.
Many modern driving irons are semi-hybrids, combining the look of an iron, with the extra mass of a hybrid, with hollow constructions providing forgiveness and easy launch.
There are some great driving irons around right now, but overall we picked out the Srixon ZX Mk II Utility Iron as our top golf driving iron this year.
For high handicappers, the Ping G425 Crossover is our #1 pick.
These are the best driving irons right now
How we picked
We considered driving irons from each of the major golf manufacturers. Where possible we tested the clubs ourselves. But when we couldn't get our hands on them physically, we looked at features and real reviews from both golf pros and buyers. We also asked several golf pros for their recommendations.
In the end we whittled down our choice to just 6 driving irons, with a best overall, one for each level of handicap (high, mid, low) a budget option for those who want to test the water, and an option for maximizing distance off the tee.
There was no bias, and while we may make a small commission if you click a link and order one of the driving irons on our list, we didn't allow this to influence our decision.
We're confident in saying that the driving irons we picked are the best in each category.
Now let's look at each of the individual irons in detail.
Reviews: This year's best driving irons
Since our last update, a ton of new driving irons have been released. Previously, the Srixon Z U85 topped our list.
But at the start of 2023, we saw the release of the Srixon ZX Mk II Utility Iron, which is one of the most popular driving irons on the tour, and also features the trademark hollow design. This now takes the place of the Srixon Z U85, and easily tops our list.
Like its predecessor, the ZX Mk II Utility is packed full of tech. It may look like a normal iron at address, but there's plenty going on under-the-hood that's going to help mid-low handicappers with their consistency (for example, the improved head shape and notched sole).
We should point out that the blade length is a little on the short side, which is why we see this as most suited for mid-low handicappers. For high handicappers, we'd be looking towards a driving iron with a larger blade (see the Ping 425 Crossover driving iron below).
But that compact blade certainly makes for a pure feel and sound and impact, while still offering plenty of forgiveness. And it definitely looks the part at address.
A big development here is locked inside the mainframe which essentially, are cavities, channels and grooves moulded into the backside of the club. This allows for a lower center of gravity, flex at impact and will add consistency and ball speed when you're hitting a driving iron off the tee. In a nutshell: more distance, and more fairways hit.
The ZX Mk II driving irons are forged with improved sole notch design, which reduces contact with the ground on impact, and the club face redesign makes them one of the most durable irons on the market. And thanks to the 1020 carbon body, they're not just strong, but light too!
Put simply, the ZX Mk II Utility Irons are a forged long iron replacement (pick from 18°, 20° or 23° loft) and our clear winner for the best driving iron in 2023.
Overall pick for the best driving iron in 2023
2. Ping G425 Crossover – best driving iron for high handicappers
Ping introduced Crossover irons when they launched their G400 range.
Most golf club brands have a new drop at the start of the year, and Ping isn't any different. For 2023, we're liking the Ping 425 Crossover; which is our pick for the best driving iron for high handicappers (the equivalent in the 2023 range for lower handicappers would be the Ping iCrossover Utility iron).
I've had a Ping driving iron in my bag (a 22 degree) since I went to buy a G400 driver on the day of release, and was so impressed with the Crossover that I ended up leaving the shop with both a new driver and a driving iron.
Although, on that note, there's an argument about whether the Ping G425 is a "true" driving iron. Some would argue it's more like a hybrid than an iron. But in our view, you're most likely going to use the G425 crossover on the tee box (although it's great on the fairway), so we think it's fair to label it as a driving iron.
There are a ton of improvements Ping has brought to the new G425 driving iron. Especially when you compare it to older models, such as the G410.
First up, the new tungsten weighting in both the toe and hosel means you'll reduce MOI (moment of inertia) by up to 6.5% according to Ping. Naturally, that's going to mean additional accuracy and forgiveness in comparison to past Crossover driving irons.
The new thinner steel face is designed with one thing in mind; improved ball speed. Ping hasn't left any stone unturned here, with their hydropearl finish designed to repel moisture. That means increased ball speed consistently, regardless of conditions.
All-in-all, we think the Ping G425 crossover is a great choice for higher handicappers, and will be a go-to club when you need to make sure your ball is in play. The perfect club to be holding in your hand when you're standing on the 18th tee with a solid score, and don't want a 3 off the tee card wrecker to ruin your round.
And that's why we've gone ahead and picked the Ping G425 Crossover as the best driving iron for high-handicappers.
Check out the Ping G425 Crossover here.
Note for low-mid handicappers
Ping also dropped an equivalent driving iron into their 2023 range. If you like the sound of the G425, but are a low-mid handicapper (rather than high), you'll want to pick the iCrossover, not the G425.
There are no arguments about whether the TaylorMade Stealth UDI is a driving iron: UDI stands for "Ultimate Driving Iron". Which is a bold claim, but one that has some merit.
We picked this out for mid handicappers, but we'd say that you should be a reasonably proficient ball striker, with decent swing speed to get the most out of it. If it's your short game that gets you in the mid-handicap bracket, we'd probably go for the Ping instead.
Because the Stealth UDI is not a club that's designed to do the work of getting the ball up in the air for you. It's low launching, and low spinning, which is going to provide a piercing flight with plenty of runout on well struck shots. Exactly what you want from a driving iron. In fact, on links courses, you could probably get away with leaving your driver in the clubhouse, particularly if you go for the 18 degree 2 iron.
Which means that as well as being a good choice for solid ball strikers in the mid handicap bracket, it's also going to be a good pick for low handicappers.
Offset is minimal, but it's there, so you'll get a touch of help ensuring you're hitting down (which you still want to do with long irons). But we should also point out that unlike with the Ping crossover, which is designed to minimize sidespin (and make your misses smaller), a slice swing is going to produce a sliced ball with the UDI. It's a "true" club, which will produce the ballflight that your swing should. On the positive side, that means that it's also pretty workable, so if you're comfortable moving the ball both ways you'll be able to play round both right and left doglegs.
On another positive note, while swing path (and face direction) is going to produce the ball flight that it should (good or bad depending on your point of view/skill level), the UDI is reasonably forgiving on off-center hits. So even if you're not someone who wears out the middle of the face, then you'll be able to hit plenty of great shots with the TaylorMade UDI.
And finally, we'll say that those great shots truly are beautiful. It's a much stronger, piercing ball flight than the Ping G425 Crossover, and as we already mentioned, one that might make you want to skip the driver altogether.
Expect a traditional address view from the Stealth UDI, thanks to the shaping inspired directly from the tour. The redesigned narrower sole allows for both improved forgiveness in your iron play, especially when compared with standard long irons.
Available in 18°, 20° and 23° loft, this is our pick for the best driving iron for mid handicappers in 2023.
Bottom line: UDI stands for ultimate driving iron, and we kind of agree with TaylorMade's assessment.
It's very close between the Srixon ZX Mk II Utility Iron and the TaylorMade Stealth UDI, and all things considered, they're kind of on a par (pun intended).
BUT, for mid handicappers, we don't see there's anything out there than beats the Stealth UDI.
Check out the TaylorMade Stealth UDI here.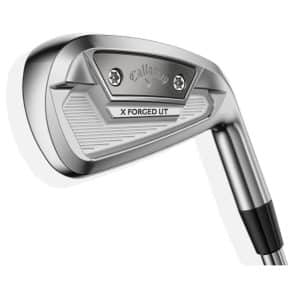 Callaway call their driving irons utility irons. Seems the major manufacturers can't really agree on semantics.
But make no mistake, the Callaway X Forged UT is very much a driving iron. A driving iron that's designed for better players, who need a reliable fairway finder on tight holes, with consistent spin and ball flight.
Perhaps surprisingly for a player's iron, the X Forged UT is hollow bodied. And there's a reasonable amount of tech included to increase forgiveness, and boost speed. But let's be honest, unless you are a purist who dreams of having a go with Ben Hogan's old 1 iron, we could all use a little help on the course.
The boost in ball speed is provided by Callaway's A.I. designed Flash Face technology. If you're interested in how this works check out our Callaway irons guide, but really all you need to know is that the tech produces a hotter face and a little more zip on your strikes.
Launch is aided by carefully placed Tungsten weighting, and the X Forged UT also has a longer blade and wider sole for increased forgiveness.
In terms of ball flight, you'll get a mid-low trajectory on well struck shots (somewhere between the Ping G410 and the TaylorMade), and off-center strikes aren't going to punish you too much. But again, to reiterate this is a player's club, and while forgiveness is there to an extent, you'll need to put a good swing on it (at reasonable speed) to get the results you're looking for.
It's great off the tee, and plays well from the fairway for those who prefer a long iron for their approach shots on par 5s.
And while looks aren't everything, the forged mild carbon steel finish is quite simply stunning.
If you're a low handicapper, who's looking for consistent spin and trajectory, and a solid (but soft feeling) impact with plenty of feedback, the Callaway X Forged UT is a great choice for your next driving iron.
Check out the Callaway X Forged Utility Iron here.
Finally, we've picked out a driving iron for those who don't have a huge budget, but want to add a driving iron to their bag.
There were a few choices here. But the Ram Golf FX shaded it for us.
It's got a very low center of gravity, which will help get the ball up in the air. And a high MOI means that off center hits aren't going to be punished too hard. And we also like the matt black finish.
Not too much to report in terms of tech, but at the price point it's a decent club, that will give you another option off the tee.
Check out the Ram Golf FX Hybrid driving iron here.
No shortlist of driving irons is really complete without a mention of Titleist. For 2023, they dropped a ton of new clubs, and the T-Series (T200 specifically) are what we'd be looking at here.
Looking to extract every yd possible on a consistent basis? Then this is the club for you, as the Titleist T200 driving iron is all about distance.
The 2023 T200 came with a ton of upgrades. First, the R&D team at Titleist worked on the design. That meant removing the impact screw which wasn't needed, and also kinda' ugly. They then got to work on the overall design and shape which means the 2023 version of the T200 now has a much more pleasing look and feel compared to prior models.
D18 density tungsten is incorporated here with a focus on increasing forgiveness via a much lower center of gravity and at the same time allowing for a much better launch. Most importantly, that's a better launch with less spin.
Overall, the T200 has seen a massive pump in effectiveness compared to prior models, which is why we've added it to this list. More tech, more performance and a ton better sound and look.
If you're after the best driving iron for distance, the T200 is well worth a look.
In Summary
We picked the Srixon ZX Mk II as the best overall driving iron for 2023, but the TaylorMade Stealth UDI runs it incredibly close (it's our top pick for mid handicappers).
Overall pick for the best driving iron in 2023
For higher handicappers, we recommend the Ping G425 crossover, which has exceptional forgiveness and is easy to hit.
And better players will enjoy the consistent spin and flight of the Callaway X Forged UT.
All four of these driving irons are solid, premium choices that we'd highly recommend. They're the best driving irons on the market. But for those with a lower budget that want to add a driving iron to their bag, the Ram Golf FX is a decent choice, with an unbeatable price point.