For our 2023 picks, we considered 15 golf watches from 4 manufacturers, and for the second year in a row, Garmin's S62 came out on top. Find out why we picked the Garmin S62 as the best golf GPS watch this year, and check out our other recommended watches below.
Quick Look: Our Top Pick + Best Affordable
If you want to shoot the best score you can and lower your handicap, you need to know your distances with each club, and you need to know exactly how far you are from the green. Modern golf GPS watches are super accurate, with most having a margin of error of a yard or less.
If you're looking for a no nonsense golf GPS that's going to give you the numbers you need, then the Garmin Approach S12 is an excellent affordable watch.
But if you're looking for the best of the best, want a feature packed golf watch, and have the budget, then the Garmin Approach S62 is our pick for the best golf GPS watch this year.
best overall
These are the best golf GPS watches right now
How we picked
We tested many of the leading golf watches this year, and considered around 15 watches in total. For those we didn't have physically in our hands, we spent hours researching customer reviews, reading tech specs, and comparing features.
To whittle down our list to a top 5, we picked one "winner" from each category — overall best, affordable, mid range, lightweight, and under $300.
While our final list of the best golf GPS watches for the 2023 season ended up a little Garmin heavy, that's simply because they're making the best watches right now. There was no bias, and while we may make a small commission if you click a link and order one of the watches on our list, we didn't allow this to influence our decision.
We're confident in saying that the watches we picked are the best in each category.
Now let's look at each of the individual watches in detail.
Reviews: This year's best golf GPS watches
1. Garmin Approach S62 – best overall golf GPS watch
While some of the categories were difficult to choose a winner, when it came to the best overall GPS watch there was really one choice: the Garmin Approach S62.
Garmin know golf GPS watches inside out. And each year they up their game, packing more and more features into their watches.
But the Garmin S62 is much more than just a golf watch. Let's start with looking at what's new when compared to the previous Garmin S60.
What's new in the Garmin S62?
The Garmin Approach S62 replaces the previous year's S60 (although that's still available), and the first notable improvement Garmin made is to increase the size of the screen by an impressive 17%. The extra screen size makes operating the touchscreen menu noticeably easier, and with everything on the screen generally "bigger", the whole watch is easier to read when glancing at your wrist.
Another new feature we like is wind speed and direction. No more having to take the Tiger approach of tossing a tuft of grass into the air and guessing at the strength of the gusts, at least in casual rounds. As we should point out that wind speed (and some other premium features such as "plays like") are not legal for tournament play.
Talking of the "plays like" feature, that's what Garmin is calling the S62's slope functionality. Rather than an "as the crow flies" yardage, when the "plays like" feature is on, you'll get a yardage to the green that takes account of uphill and downhill slopes. Useful for those who play on hilly courses. And again, while it's not legal for tournament play, you can use the feature in your practice rounds, and take notes at various yardages on each hole.
Finally, we also want to draw attention to the "pinpointer" feature, which will point you to the pin on blind shots. No more having to take note of the position of a particular cloud, then keep your eye on it as you set up for your shot!
Garmin S62 features
The Garmin S62 comes preloaded with 41,000 courses, all with full color "course view" maps. Course updates can also be downloaded when they become available.
In addition to the new features we noted above, you'll get the usual distances to front, middle, and back of green, as well as distances to individual hazards on each hole. With the S62's "hazard view" you can quickly scroll through individual hazards on a hole, get the yardage for each, and figure out the choice of club that's going to keep you well away from them!
As has become standard on Garmin's higher end GPS watches, there's a green view that will let you drag and drop the pin to match the greenkeeper's setup for that particular day. So yardages are always going to be bang on.
Auto shot tracking, and strokes gained analysis (when paired with the Garmin golf app) makes this the most feature packed Garmin golf watch to date.
The S62 is more than just a golf watch
While you'll be buying the S62 for its golf features, it's more than just a golf watch, and is a full-on replacement for your Fitbit or Apple Watch.
You'll get all the functionality you'd expect from a high end smartwatch, including notifications, fitness and health tracking (including heart rate), and the S62 will even measure your blood Oxygen level. Throw in customizable watch faces, and this is truly the only smart watch a golfer will ever need.
In summary
The Garmin Approach S62 was the clear winner for the title of best golf watch for the 2023 season. It's super accurate and has everything you need both on the course, and for post round analysis.
Strap a Garmin Approach S62 on your wrist, and you'll be bound to lower your scores.
best overall
2. Garmin Approach S12 – best affordable golf GPS Watch
The Approach S12 is Garmin's upgraded version of the S10.
If you're looking for an affordable golf GPS watch that includes all essentials to keep track of your scores whilst gaining yardage, the Garmin Approach S12 should be at the top of your shortlist.
Sure, it doesn't have the wealth of features the S62 has, but at $199.99 versus $499.99 it doesn't have the bulky price tag attached either.
On the green, you'll get up to 30 hours battery life when set to GPS mode and the HD screen means reading data is easy, even in extreme sun glare.
Like other Garmin golf watches the Approach S12 comes inclusive of 42,000 preloaded CourseView maps.
You'll be able to flick between data at the back, middle and front of the green so you've got all the data on hand to tee up the perfect shot. Hazards are highlighted on most courses too!
Course map updates are all available wirelessly so you can keep up to date on the courses you like playing the most.
Want to max out the potential of your S12? You'll want to pair it with a set of Approach CT10 sensors to track what you're doing with all the clubs in your bag.
Better still? No scorecard needed. The Garmin S12 Approach golf watch will track scores for you. All you need to do is simply upload it to the Garmin Golf app to keep tabs, and see how you stack up against other golfers on weekly leaderboards.
best affordable
Garmin Approach S12
If you're looking for an affordable golf GPS watch that includes all essentials to keep track of your scores whilst gaining yardage, the Garmin Approach S12 should be at the top of your shortlist.
Check Price on Amazon
Buy direct from Garmin
We earn a commission if you click this link and make a purchase at no additional cost to you.
3. Sky Caddie LX5 – best mid range golf GPS watch
Moving away from Garmin for a moment, our next pick is the Sky Caddie LX5.
The LX5's claim to fame? It has the biggest color touchscreen of any golf watch available right now. The LX5's touchscreen measures in at a whopping 1.39" (3.5 cm) and also claims to be the brightest on the market.
But extra large screen aside, the Sky Caddie LX5 is in itself a feature packed golf watch, which is in some ways a challenger to Garmin's dominance.
While the number of courses featured trails Garmin (35,000 on the Sky Caddie LX5 vs 41,000 on the Garmins), the full color course maps include zooming and panning functionality and an impressive level of detail.
Like the S62, the LX5 has a touchscreen interface, which is easy to navigate due to the oversized screen. And you'll get distances to front, middle, and back, as well as being able to select hazards for accurate yardages.
While not quite the Apple Watch killer that the S62 is, the LX5 also has a number of the features you'd look for in a high end smartwatch, including fitness and step tracking, timers, alarms, and a stopwatch.
And of course you can keep track of your scores and stats for strokes gained analysis post round.
All in all, Sky Caddie have designed an excellent golf GPS watch. It's not quite at the level of the Garmin S62 (nothing is), but it's definitely one of the most feature packed golf watches out there, and its display is second to none.

If you're looking for a mid range golf watch, your two choices are really the Sky Caddie LX5 or the Garmin S42. And the S42 happens to be our next pick.
4. Garmin Approach S42 – best golf GPS watch under $300
The Approach S42 is Garmin's upgraded version of their popular S40 GPS watch.
Weighing in at $299.99, the Garmin Approach S42 is our pick for the best affordable golf watch under $300. A perfect middle ground between the basic tracking setup of the S12 for just $100 more, but still inclusive of many features smartwatch users get from the flagship Garmin S62 for $200 less.
Interestingly, the battery life is lower than the S12. Simply put, the S42 is powering a tonne more features (mostly smartwatch functionality), and those features use extra battery life.
That said, you'll get an impressive 15 hours out of this as a GPS golf watch and a full 10 days when using it as a smartwatch.
Screen tech is further enhanced in comparison to the S12 with a 1.2" touch screen, meaning you can manually position pins on the exact point of a course. And once you've taken your shot, autoshot detection on the S42 shows exactly where your ball landed.
You'll get full coverage across 42,000 courses worldwide, with the ability to get wireless updates. And when on the course you'll get accurate distances to the front, middle, and back of each green (with a drag and drop pin on the green view for precision).
Stat tracking is more than you'd expect for a GPS golf watch under $300 such as strokes gained analysis and weekly leaderboards, all via the Garmin Golf App.
But, the real beauty of the S42 is it functions as a smartwatch. Pair to your smartphone and get 24/7 notifications via email and text. And use the S42 Approach watch to track sleep, steps, calories and more
best under $300
5. Shot Scope G3 GPS Watch – best lightweight (and affordable) golf watch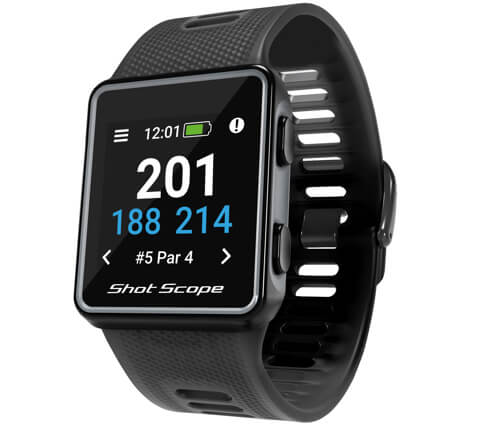 The Shot Scope G3 is a serious contender for the category of best affordable golf GPS watch. In fact, it's won several awards in that category.
So it's a solid alternative to the Garmin Approach S42, and normally comes in a fair bit cheaper (bonus) depending on the deals of the day.
What do we like about it?
Well, since it's the winner in our lightweight category, let's start with that. Because the Shot Scope G3 weighs just 41g. We're not saying saving on the weight is going to increase your swing speed, but let's be honest, sometimes having a bulky watch on your wrist can be a little awkward, particularly on delicate shots around the green. So if you want a lightweight watch, the Shot Scope G3 is going to be the one for you.
In terms of features, Shot Scope have packed a lot into such a small package.
You'll get 36,000 courses preloaded – which is a bit less than the Garmin. But unless you're playing some seriously beaten, off the grid courses, you'll find your favorite track on the Shot Scope.
The screen is bright, clear, and daylight readable, and as well as distances to greens (the usual front, middle, back), you'll get front and carry distances for all hazards – helpful for plotting your way around the course and avoiding trouble. Accuracy is in line with the Garmins on our list.
The only downside, is the G3 doesn't include shot tracking.
But it's an all round excellent golf GPS watch, that fits into the affordable category, with the bonus of being one of the lightest watches on the market.
best lightweight
Honorable mentions: golf watches that didn't quite make the cut
While it was relatively straightforward to choose the Garmin Approach S62 as this year's best overall golf watch, choosing a winner in the other categories was less easy.
So let's quickly cover some alternatives that you might want to consider.
As mentioned, the Garmin Approach S62 was the comfortable winner, with the closest competition ironically coming from Garmin itself. We're still big fans of last year's S60, and the fact that it's a little cheaper than the S62 did give us pause for thought. But in the end we felt that the new features of the S62 made it worth shelling out the extra dollars.
At the affordable end of the golf GPS watch market there were plenty of contenders. We're confident in saying that the S12 is the best pick, but we also like the Bushnell Neo Ion 2, which has 36,000 courses pre-loaded and plenty of data.
And in the mid range, there's a ton of choice. But we're going to give a particular shout out to the Golf Buddy Aim W10, which has a 1.3" color touchscreen, course flyover, and is preloaded with over 40,000 courses. It's a great golf GPS watch that was very close to making the cut.
Finally, if you have an Apple Watch, we recommend Golf Shot Pro as the best Apple Watch golf GPS app.
Golf GPS Watch FAQs
Are GPS watches legal in golf?
Golf GPS watches are legal for tournament play. However advanced features such as slope (or "plays like") and wind speed can only be used in casual rounds.
How accurate are golf GPS watches?
Most modern golf GPS watches will be accurate to within a yard or two. Exact accuracy will correlate roughly with the price of the watch, with more expensive watches tending to provide a greater level of accuracy.
Are golf GPS watches as accurate as lazer rangefinders?
Cheaper lazer rangefinders will tend to be a little more accurate than cheaper golf GPS watches. However at the higher end accuracy will tend to be on a par. One advantage of lazer rangefinders however is that you can get a yardage for any object on the course, whereas with a golf GPS watch you are limited to preset hazards and distances to front, middle, and back of the green.
Can you use an Apple Watch as a golf GPS?
Yes. We recommend the GolfShot Pro app, which has most of the features you would expect in a high end golf GPS watch.
How much is a golf GPS watch?
Affordable golf GPS watches are available for under $100, while premium golf GPS watches with advanced features such as slope and wind speed will generally be priced in the $400-$500 range.