Looking to buy a new pair of slip on golf shoes?
We've got you covered.
In this guide we've picked out the best slip on golf shoes from this year's line ups.
But before we get to the shoes, let's quickly answer a couple of questions…
What is a slip on golf shoe?
A slip on golf shoe is designed for you to be able to slip it on and off without untying the laces. In fact, some slip on golf shoes (like the adidas Adicross SL) don't even have laces.
So yeah, the clue is in the name.
Why would you want a pair of slip on golf shoes?
Well if you're like me (constantly running late for your tee time), a slip on golf shoe will save you a couple of minutes before each round. Basically, they're convenient.
And they'll also stop you wrecking the heel of your shoe by trying to squeeze your feet into tied golf shoes (mea culpa).
So now we know what they are and why you want them…. let's look at the best slip on golf shoes available right now.
The 3 best slip on golf shoes for men
Slip on golf shoes are fairly new, so you won't find a huge selection.
But fortunately, 2 of the world's best golf shoe brands (Footjoy and adidas) both have slip on options.
Let's start with our #1 pick from Footjoy.
1. FootJoy Men's Superlites XP
At first glance, the FootJoy Men's Superlites XP might not look like slip on golf shoes. But that's exactly what they are.
You'll notice that the laces don't go all the way up to the top, which allows you to wiggle your feet in with ease.
And these aren't just great slip on golf shoes… they're great golf shoes, period.
The soft moulded (spikeless) rubber traction on the soul offers excellent grip, which will be more than sufficient for driver swing speeds up to around 115mph. Above that (hello Bryson) we'd recommend going for the extra grip of soft spikes.
They're trainer like and comfortable. And they're also waterproof for keeping your feet dry on soggy golf courses.
If you're looking for the best slip on golf shoes this year, FootJoy Men's Superlites XP are our recommendation.
2. adidas Men's Adicross SL Golf Shoe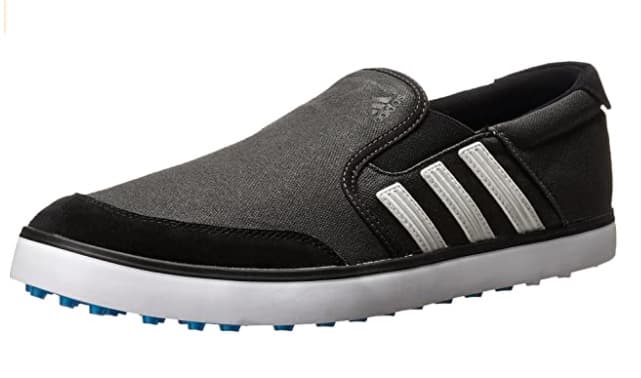 These look more "slip on" than the FootJoy and might be more in line with what you expected to see when you started searching.
No laces here, and you'll be able to slip them on and off in seconds.
Adidas make great golf shoes. And while you might sacrifice a little traction with the Adicross SL, for dry courses they'll probably be sufficient to keep you planted.
The adidas adicross SL look comfortable, and well… they are.
This is about as trainer like as a golf shoe gets. And a lightweight "CloudFoam" sock liner provides even more cushioning.
The perfect slip on golf shoes for casual rounds.
3. FootJoy Men's Club Casuals Buckle Loafers
If you're looking for a more dress like slip on golf shoe, then the FootJoy Club Casuals Loafers will look the part both on the course and in the club house.
They're made from full grain leather, with a synthetic sole.
And while they might not look like actual golf shoes, trust us, they are. The sole uses FootJoy's proprietary DuraMax rubber compound to offer decent grip and traction.
Again, we'd probably recommend wearing these for casual rounds rather than tournament play. But if you want a pair of golf shoes that you can wear to the office, then head straight out onto the golf course with, then these are an excellent choice.
Not the cheapest golf shoes around, but they've got to be the smartest!
The 2 best slip on golf shoes for women
Lots of best golf shoe guides ignore women. We don't.
So here are our top 2 picks for women's slip on golf shoes this year.
1. FootJoy Women's Leisure Slip-on Golf Shoes
Again, FootJoy is our top pick.
And again, their slip on shoes for women are all-round great golf shoes.
They're waterproof, comfortable, and breathable with excellent grip and traction courtesy of a DuraMax sole.
And the pull tab at the back makes them super easy to slip on and off before and after a round.
2. Puma Women's Tustin Golf Shoe
A no frills appearance, but a super comfortable golf shoe.
Puma Tustin are as slip on as you can get, looking more like gym shoes than golf shoes.
But there's hidden traction in the sole, which should be plenty for dry conditions and casual rounds.
A good pair of golf shoes for carrying in your bag in case you suddenly get the urge to grab a quick 9 holes after work.
But for more serious golf, we'd probably go with the FootJoys.
Looking for more golf shoe options?
That rounds it up for our pick of this year's best slip on golf shoes.
There's not a huge selection at the moment. But we're expecting more golf brands to introduce slip on options over the next few years, so we'll be sure to update our guide when they do.
And in the meantime, head over to our guide to this year's best golf shoe brands if you need a little more choice.