At Golfer Logic we're big on golf simulators, we've been reviewing and ranking them for 4 years.
Put simply, if you are looking for a golf simulator for under $1000, you'll know everything you need to by the time you've read this guide.
Which type of golf simulator do you need?
But first, let's clear something up real quick. There seems to be some confusion as to what a golf simulator actually is.
Simulator
Includes a: launch monitor, software, hitting mat, sometimes an impact screen and enclosure. It's a full indoor "playable" package for your home.
As a package a simulator is able to track, simulate and produce data based on what it tracked. Essentially, it's an indoor practice aid that uses software so you can play as you would on the course.
With all that packaged up, I'll be honest, you'll be clutching at straws expecting a golf simulator under $1000 to really provide you with a training aid level of play. If you have more of a budget, you'll want to jump to this section of our guide, or go to our detailed guide covering the best golf simulator here.
Launch monitor
This is where the confusion lies. A launch monitor as a standalone unit is not a golf simulator, it's simply a launch monitor. These can be portable so can be used outdoors, some are suited only for indoors, yet every single golf simulator in the world needs a launch monitor (otherwise it's not a golf sim).
Top web stores to find cheap golf sims for sale
Looking for the best cheap golf simulators online? Here's our list of recommended retailers, with Carl's Place Golf being our top recommendation. And of course Amazon for those looking to build an affordable DIY simulator.
The best golf simulators under $1000
So now we've cleared that up. Essentially, there is only one golf simulator package for under $1000; the Optishot 2 Golf in a Box, and we've detailed that below.
You'll need to step up to the likes of the SkyTrak, FlightScope Mevo+, Bushnell Launch Pro, Foresight GC3, Foresight GCQuad and even Trackman if you want any other packaged simulators.
However, you can bridge the gap with a practice package in various forms (with a net, simulator mat and screen and essentially, make a DIY golf simulator for under $1000; using the Garmin R10.
The Complete Sim Buyer's Guide.
Top rated package: affordable golf simulator under $1000
Why we picked it
Put simply, in the under $1000 budget range for home golf simulators, there isn't any other trusted brand; it's the Optishot 2, or you'll jump to the Garmin R10 or FlightScope Mevo below.
The "golf in a Box" package utilizing the OptiShot 2 simulator is certainly fun.
Courses are 3D rendered, and you'll have 15 to play with thanks to their basic package. A further 45 courses are available with an upgrade. And whilst the courses aren't "officially" named – probably due to licensing – it won't take you long to figure out which PGA Tour courses you're playing on.
What's included:
Optishot 2 golf simulator and launch monitor
Optishot software
USB cable
Adjustable rubber tees
Two foam practice golf balls
Golf landing mat
Golf hitting net
What the Optishot 2 tracks
The Optishot 2 tracks your club using high speed 48MHz infrared sensors (16 of them). And when we say tracks you're club, we mean you're club; it tracks the club face.
That means you can use foam balls, no balls, golf balls…whatever you want…as it's the club face that's important here.
But, the fact it tracks your club not your ball means stats could be questioned; there is simply no way tracking impact position on the club can be a substitute for tracking actual ball flight.
And, that's simply down to the fact it's a budget monitor (under $350 as a standalone unit). Compare this to the likes of the best launch monitors, which tend to sit anywhere in the $2000-$20,000 range…
But anyway, the Optishot 2 tracks:
Club speed
Club path
Face angle
Distance
Tempo
Estimated impact location on the club face
Would we buy it?
We'd consider the options in this price range more akin to a golf game than a golf simulator, and would encourage you to try and squeeze your budget to our top pick for an affordable golf simulator; the Garmin R10.
If your budget can't stretch, we'd be considering dropping our expectations of a full golf simulator, and going for a practice package; a hitting net and hitting mat combined with the R10 or Mevo.
The Optishot 2 certainly isn't a pro grade sim. But, this is about the best golf simulator under $1000 you can buy that's complete, and pre-packaged. 
However, if you want the most accurate golf simulator under $1000 (and can compromize on certain things), jump over to this section on the Garmin R10 launch monitor setup, as that's what we'd buy.
Top launch monitors and golf simulators under $1000
So to recap the above, if you want a home golf simulator under $1000, the only real option is the Optishot Golf in a Box.
However, there are launch monitors worthy of a mention under $1000 that can be then combined with the likes of cheap landing mats, hitting mats, software and even golf enclosures to build your own DIY sim.
Below we've included reviews of the Garmin R10, FlightScope Mevo and Phigolf 2; all of which sit in different price brackets.
Put simply, we'd pick the Garmin R10 as the best affordable golf simulator under $1000, when packaged with a hitting net and hitting mat.
If you're looking for a step up in terms of tracking data and accuracy compared to the Optishot, you'll want to take a peek at the Garmin R10; a cheap golf simulator and launch monitor. And one that gives you access to 42,000 golf courses, the ability to video record shots, and 10 hours of battery life meaning this is a cheap but portable launch monitor.
With the Garmin R10, you'll be able to integrate software used by the very best launch monitors on the market. It's compatible with the likes of E6 Connect, TGC 2019 and Awesome Golf (more of a gamified app, but an option nevertheless).
Tracking data is compromised of the following, which rivals some of the $1k-2k launch monitors on the market and uses radar technology but at under $600, it's a much more affordable golf simulator.
Radar metrics:
Club head speed
Club face angle
Club path angle
Angle of attack
Ball speed
Launch angle
Launch direction
Spin axis
Spin rate
Apex height
Smash factor
Carry distance
Total distance
Deviation distance
How accurate is the Garmin R10 golf simulator?
Probably a lot more accurate than you think. As an example of how accurate the Garmin R10 tracks certain datasets:
Carry distance: +/- 5 yards
Launch angle: +/- 1 degree
Ball speed: within 1.6 km/h
Basically, that's some of the best stats you'll get from a cheap golf sim and launch monitor. Better still? You'll be able to bump your tracking capabilities by using the Titleist Pro V1® or Pro V1x® which use Radar Capture Technology.
An example of the stats boost you'll get? Spin accuracy using the Pro V1 or Pro V1x is improved by up to 50%.
Is the Garmin R10 a good cheap golf simulator?
Retail price is $599.99, and that leaves you with a chunk of change if you're looking to build a golf simulator under $1000. By combining the Garmin R10 with a hitting net, impact screen and hitting mat, you'll get a cheap golf simulator that doesn't just rival the Optishot Golf in a Box…it's better.
And you'll also future proof yourself if you want to upgrade your sim with the ability to integrate the likes of E6 Connect and TGC 2019, both of which are used in mid-high end golf simulators.
Whilst Garmin don't officially state that the R10 is compatible with GSPro, you'll find plenty of golfers on Reddit, Golf WRX and the likes explaining how they've figured a work around to make it compatible.
In summary, the Garmin R10 is the best cheap golf simulator, when packaged on a DIY basis with the likes of a hitting net, impact screen, and hitting mat.
( coupon golferlogic10)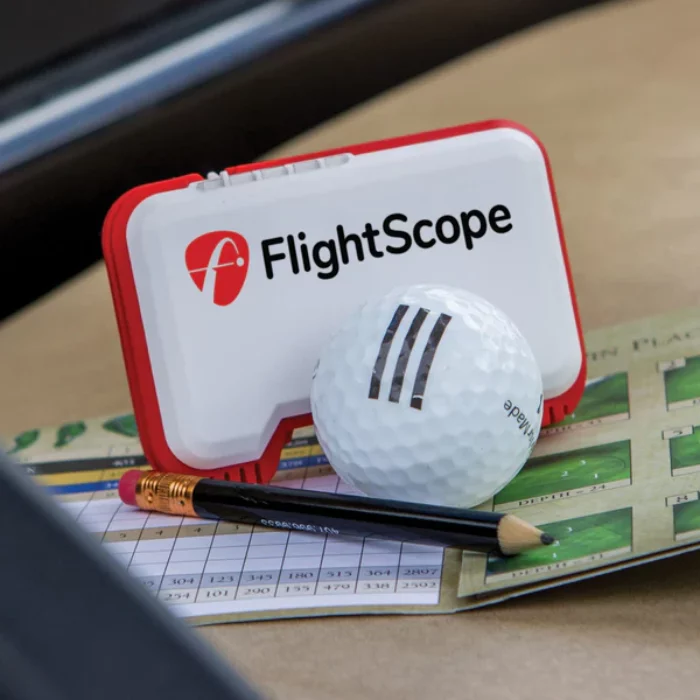 The FlightScope Mevo is a direct competitor to the Garmin R10, and actually weighs in a little cheaper, with a price tag of $499. Like the Garmin R10, if you dig around a little, you can sometimes find a small discount of $25-50 off the MSRP.
The amount of data analyzed by the FlightScope Mevo is what lets it down in comparison to the R10 we mentioned above. Whilst the R10 analyzes 14 different data parameters, the FlightScope Mevo analyzes just 8, those being:
Carry Distance
Spin Rate
Club Speed
Ball Speed
Vertical Launch
Smash Factor
Apex Height
Flight Time
If you've read any online reviews of the Mevo, you'll see it can track ball speed within 2mph, whereas the R10 is closer to tracking within 1mph. You can bump tracking accuracy of your Mevo sim using their aluminium stickers ($45 for a roll of 1000), but you'll still be lagging in comparison to the R10 sim.
In terms of software, you'll want to use the FS Golf app, which includes the likes of the FS PGA & LPGA Challenges, FS Long Drive Competition and FS Range Competition.
If you're looking for a cheap golf sim under $1000 with a hitting mat and hitting net, this is a good option. But, if you can stretch the extra $100 or so to create a Garmin R10 budget simulator, that's what we'd be doing.
The Phigolf 2 golf simulator and swing stick you won't find talked about a ton, but it should be. Priced around $300, it sits at nearly half the price of cheap launch monitors like the Garmin R10.
Tracking wise, you'll get the likes of club head speed, swing frequency, club path, face angle, and distance. As well as access to various training programs offered by Phigolf that help you include putting posture and swing speed.
Whilst there are plenty of launch monitors in that price range (not particularly good ones), it's rare they'll have any software compatibility apart from a branded app…making them more of a swing analyzer than a golf simulator.
That's where the Phigolf golf simulator differs. You'll get compatibility with WGT created by Top Golf, E6 Connect by TruGolf (sold separately). If you're looking for the cheap option to get you up and running, simply utilize the 10 courses offered in the Phigolf app. A further 67 courses are available across WGT and E6 Connect.
Like some of the other cheap golf sims on this list, the Phigolf 2 is tiny, lightweight and that means it's portable; use it indoors in a sim room, then take it to the range.
And alongside all of that, you'll be able to join an online golfing community of 120,000 players. Play for fun or competitively with regular tournaments on offer.
Put simply, if you want a cheap setup (in fact, the cheapest golf simulator on this list), the Phigolf 2 is where you should be looking.
But again, like the Mevo, you'll be paying the same prices for hitting nets etc anyway, so if you can bump your launch monitor budget to the Garmin R10, you'll be grateful you did.