In summary: which is the best golf impact screen for you?
We researched golf impact screens for dozens of hours so you didn't have to. We settled on a top pick for each of the following categories:
Best golf impact screen (overall) – Carl's Place Impact Screen
Best cheap golf impact screen – amazgolf Hitting Screen
Best retractable golf screen – HomeCourse Retractable Screen & Enclosure
If you have the budget, you need to be headed for Carl's Place screens. They have standard, preferred and premium options (better image quality and durability as the price increases).
If you're not using a launch monitor alongside your hitting screen you don't need to worry about image projection quality, so simply go for the Standard Carl's Place screen.
If you are using a launch monitor as part of a home sim setup, you'll benefit from a bump in projected image quality; go for the "Preferred" or "Premium" screen. View your options at Carl's Place here, starting at $244.95.
If you're on a tight budget and you're looking for the cheapest hitting screen possible, you'll need the amazgolf hitting screen.
And if you don't have a specific room in your house to use for golf practice, you'll need a retractable setup; the best retractable impact screen comes from HomeCourse, available on Rain or Shine Golf here, with a cost of around $2,000.
The impact screens listed below can be used in a variety of formats including:
As part of a DIY golf simulator setup
Alongside a golf hitting net (or not)
Standalone (no launch monitor, net or enclosure)
Basically, what we've picked below suits anyone wanting to buy a golf impact screen for home use.
Looking for mats / prefer an enclosure with an impact screen? See our guide to golf enclosures here, and hitting mats to use alongside your screen here.
Best golf impact screen for 2023
Golf impact screens buying guide
Which golf impact screen material do you need?
The cost of a premium branded item can be 3x the amount of a basic and cheap impact screen. Which screen material do you need, and how much is it likely to cost?
The material used in hitting screens is usually a layered polyester mesh. This is the best material to use as it gives the best combination of picture quality, yet durability too. Typically, a quality screen will be able to withstand hits of up to 250 mph time and time again.
There's a HUGE difference in price between low end golf hitting screens and high end ones.
As an example, Carl's Place's guide to screen materials shows they have a Standard, Preferred and Premium option.
The key difference between these 3 impact screens is the picture quality, and a slight improvement in terms of durability. Whilst the Standard option will suffice, you'll see a big difference in quality when using the Preferred and Premium options.
Put simply, if you want the best picture quality projected from your launch monitor, you'll want a high end screen. But we appreciate that making a decision on a DIY sim build is usually based on price.
But to help make your purchase decision, we've given an example below of how screen costs vary based on the quality of the material used.
Using a 4:3 aspect ratio screen that's 7.7 x 10 inclusive of loop fasteners on this page, the cost difference between a Standard, Preferred and premium Carl's impact screen:
Standard: $244.95
Preferred: $399.95
Premium: $589.95
The best golf impact screens for simulators and home use
best golf impact screen overall
Carl's Place golf impact screens offer the best value for money online. For anyone building a DIY simulator setup, the components they offer are priced incredibly cheap in comparison to other top retailers.
We've featured Carl's Place in various simulator build and home practice guides including the ones below (worth bookmarking if you're building a DIY sim):
They sell a tonne of golf simulator screens, mats, enclosures and more. Their economies of scale simply means they can blow out golf simulator kits at ridiculously low prices.
As we mentioned above, the price of a Carl's Place Impact Screen will vary depending on the material you choose. Put simply, the better the material, the better the picture quality projected on the screen. So, pick the best quality material based on your budget.
Expect the cost of a standard screen to be around $250, rising to $400 for their "Preferred" screen material and $600 ish if you're after their Premium screen.
The reason we like Carl's Place is because you can customize basically any item you buy. In this case you'll be able to build your own impact screen here.
Simply use the clickable form to input:
Golf simulator screen material: Standard, Preferred, Premium
Finishing style: classic, classic with flaps, classic with loop fastener
Size and aspect ratio.
And the cool thing is, with this golf impact screen you can build your sim over time. If in 12 months you decide you want a full blown simulator enclosure? No problem, simply buy the frame kit, curtain extensions and attach your impact screen to it using bungees (all supplied by Carl's Place).
Best golf impact screen for 2023
Best cheap hitting screen for golf
With even a basic golf simulator build costing $5,000-$10,000, we're all trying to save money where we can, and your golf simulator impact screen is one of the places you can do that.
The Amazgolf screen weighs in at just under $200 (depending on size). Whilst that's a little cheaper than the $244.95 for the Standard Carl's Impact Screen, we don't really see the saving being worth what you give up in durability. And, it's certainly not worth what you'll give up in image projection quality (if you're using a launch monitor).
Carl's hitting screens come in 3 material formats: Standard, Preferred and Premium. And the Amazgolf hitting screen sits just below this in terms of image projection quality, durability, but also price.
Put simply, if you want a cheap impact screen for your home golf setup, this is a reasonable option.
Got more of a budget? We'd recommend going for Carl's Standard Impact Screen as a minimum and stretching to the "Preferred" screen material if you have the budget.
The best retractable screen and enclosure for small spaces
If you don't have a room specific for golf practice or your simulator, you'll be in need of a retractable golf impact screen. Effectively, you can set up and pack away a retractable golf impact screen within a matter of seconds thanks to its ceiling mount and remote control.
This market isn't exactly a big one. But, within it by far the best retractable simulator screen for home use is the HomeCourse.
The first thing you'll notice is the cost…it's a lot. You'll be looking at around a $2,000 price tag for the HomeCourse Retractable setup.
Quite a lot considering you can get a high quality hitting screen for around $500 and in fact, in the $1500-$1700 range you can actually get a full simulator enclosure including curtain extensions, frame and impact screen. Use this clickable form and you'll see how much a full blown golf enclosure will cost you.
So…it's definitely worth figuring out if you really need a retractable golf simulator screen, as a solid golf enclosure setup is going to be much more suitable.
Back to the HomeCourse, and remember we're talking about a product that's focused on space saving. You'll need at least 18" of mounting space behind the ceiling mount (see full details and product specs here to decide if it's the right retractable screen for you).
What's included:
Retractable golf screen and enclosure
Ceiling mount
Easy reach pole
Remote control
Charging kit
If you're looking for a retractable golf impact screen, there's no doubt the HomeCourse Retractable is the best on the market.
You can read more about it over at Rain or Shine Golf here.
Golf simulator enclosures with impact screens
One thing you'll want to have a good think about is whether you simply want to hang your impact screen (possibly in front of a hitting net). Or, do you want a DIY simulator enclosure?
Over at a typical retailer if you want to buy a golf enclosure and screen package, you'll typically be looking at a cost of $2,500-$4,000.
However, you'll save a ton of money by buying a DIY enclosure (put simply, they don't come with a pipe framing kit). Buy the DIY setup and frame kit separately, and you could be looking at a saving of $1,000 or more!
Golfer Logic's top pick: The best golf simulator enclosure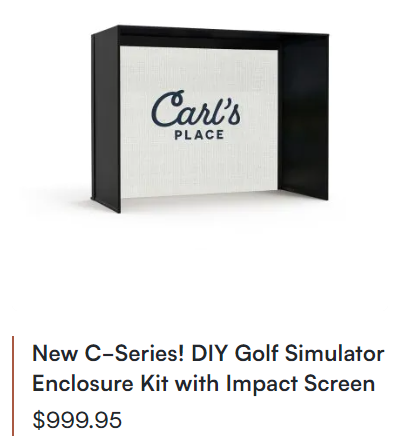 We've written a full blown guide to golf simulator enclosures here, or you can jump straight over to here and start building your golf enclosure using the options on screen for around $1,500 including an impact screen, frame kit and curtain extensions.
Where to find golf impact screens for sale
For cheap golf impact screens for simulators and home use, we would head directly to Amazon. You'll be giving up quite a bit in image projection quality by buying a cheap impact screen, but you'll also be saving a ton of cash; we'll let you decide what the best balance for your wallet is.
If you don't want to compromise on image quality and durability, you'll want to head to a simulator screen retailer, and below are the most trusted retailers in this space at the moment.
You'll find a big step up in image projection quality as well as durability by buying the likes of a SIG, RS Tour or Carl's Place impact screens.
Golf FAQ
How much do golf hitting screens cost?
Budget screens for home use start around $150-$200. However, you'll be lacking in both durability and image projection quality (if you're using a launch monitor). If possible, we'd be aiming for a mid-range hitting/simulator screen at a minimum, such as the Carl's Place one we mentioned here.
What distance should my projector be from my impact screen?
Typically, you'd want your projector to be approximately 8-12 ft away from your impact screen.
When installing, how tight should my simulator screen be?
Your golf hitting screens should be taut but not tight. There needs to be some flex in it to enable the screen to absorb the impact of your shots.
What is a golf impact screen?
A golf impact screen is used in home golf. It serves two purposes:
Using a launch monitor and projector, you can project a clear image of golf courses you are playing onto a simulator screen
It can be used with or without a launch monitor and projector, simply as a hitting screen for practice.
Is a simulator impact screen included in a golf enclosure?
Typically, yes. However, remember to check the product description to be sure. If you take a look at this one as an example, you'll see there are 3 different options of material types for your impact screen, which is bundled into the golf enclosure price.