In summary: which golf simulator enclosure is the best deal?
We'd highly recommend going down the DIY route. For those that prefer to piece together an enclosure to save a bit of cash, a DIY golf enclosure and impact screen setup is what you need. As an example, we built a 8×8 DIY golf enclosure kit with impact screen for $1,654.85 here, compared to the pre-packaged deal from SkyTrak at $2,499…that's a big cash saving.
That said, SkyTrak's range of Studio golf simulator enclosures are the best pre-packaged deals. Whilst most sim retailers charge considerably more for each step up in size you make, SkyTrak don't.
The Studio enclosure & screen package is the same price ($2499) regardless of which size you need and you can jump to our review here.
And finally, if you're looking for a budget setup under $1000, jump to this section where we've found the best deal on an impact screen, hitting net and side barrier netting combo.
Golfer Logic's top pick: The best golf simulator enclosure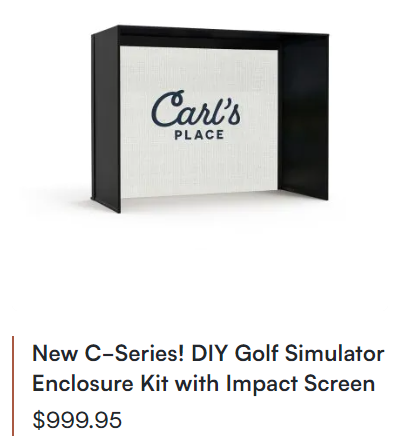 Golf simulator enclosure kit guide
If you want to play golf at home, you can jump on your PS5 or Xbox and enjoy a few rounds of PGA Tour 2K23. But if you want to practice golf at home you're going to need to grab yourself a simulator, and for that you'll need a golf simulator bay, which is what we'll be discussing today.
There are plenty of pre-packaged sim enclosure deals available. But better value can be had (or, money savings) by piecing together the bits for your own simulator. The same goes from your sim bay, you're going to get a MUCH better deal by grabbing a DIY enclosure.
Prepackaged vs DIY golf simulator enclosure
Golf simulator enclosures are big. So you won't be able to buy one pre-assembled. But there is still a big difference between DIY enclosures, and prepackaged ones.
The one crucial difference is this; DIY sim enclosures don't come with a frame pole kit, whereas prepackaged sim enclosures do…that's it!
SIG enclosures are popular, so we'll use those as an example. The highly reviewed SIG10 enclosure can be found here, and the DIY SIG enclosure can be found here. At time of writing, there is a $1,700 difference between the two and SIG (Shop Indoor Golf) clearly states the difference between the two is simply the piping kit (not included).
The savings dwindles to around $1,350 by the time you've bought what you need from a hardware store: which is EMT pipe and a pipe cutter. But still, that's a massive saving considering you can build a DIY golf simulator for under $5000.
Another example is on Carl's Place. Their Pro golf simulator bay weighs in at just over $3000. But the build your own DIY enclosure packages start at around $1000 here. You'll be at around $1650 by the time you've added foam inserts, a piping kit and the 8" curtain extensions / surrounds.
Our recommendation is to go down the DIY route, and Carl's Place is definately the most competitive retailer on the market (find out more below).
DIY simulator enclosure kits
Carl's DIY golf sim enclosure kit
For DIY golf simulator enclosures, the best deals are found over at Carl's Place; jump here to see the Carl's Place C-Series golf simulator enclosure with an impact screen.
Rather than just bundling everything together, Carl's Place lets you decide what you want and what you don't. And for many, that's going to result in a ton of cash saved. And due to the popularity of their Carl's Place enclosures, they've developed the new C-Series range for 2023.
We went ahead and built our own using their clickable options here. An example DIY golf enclosure with an impact screen showed a cost of $1,654.85…that's a crazy deal!
And here's the exact golf enclosure options we picked to get this deal:
8'x 8′ enclosure
Standard Carl's impact screen (the preferred impact screen is $200 ish more and the premium impact screen is approx $400 more)
Pipe framing kit
Foam insert kit
8′ wall extensions.
If you were to compare this to golf simulator enclosure retailers elsewhere (SkyTrak for instance), you'd be looking at $2,499 as a base cost for a 8×8 golf enclosure. Many other retailers you'll find their base price for a pre-made enclosure is in excess of $3,000.
Try building a DIY golf enclosure and impact screen at Carl's Place here using their quick and easy to use clickable tool. You'll see you can easily click options on/off to get your golf simulator enclosure well within budget.
Golfer Logic's top pick: The best golf simulator enclosure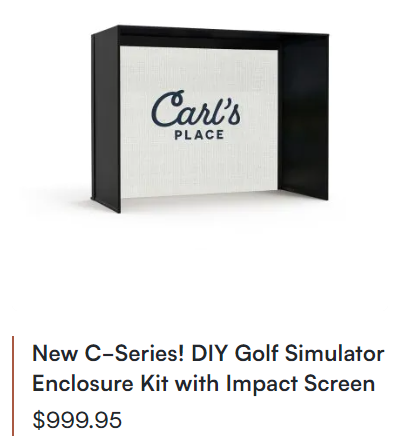 The 3 best golf simulator enclosures & impact screens
If you've decided to save any hassle or confusion, you'll be heading for a complete golf simulator enclosure.
Whilst I don't blame you (I'm quite lazy to be honest), I certainly feel jumping to the DIY golf sim enclosure section is really worth the time. The potential $1350ish saving you could see when prices are compared directly on the same retailer is worthy of your time…
1. PerfectBay Golf Enclosure
If you've read any of our other guides, you'll have seen the PerfectBay enclosure and impact screen mentioned a few times.
First up, we have a cost. The PerfectBay 12′ (W) x 9′ (H) x 5′ (D) I've seen as low as $2,799 on Top Shelf Golf. Prices there are always competitive over at Top Shelf, and 0% finance is available.
So, that's the cost covered; how does it stack up to SIG enclosures? SIG (Shop Indoor Golf) are naturally the biggest competitors to PerfectBay with their SIG8, SIG10 and SIG12 (which simply reference the size of the enclosure).
Looking at SIG enclosures, you'd need the SIG12 to get something of similar size, which is priced at $3999 currently.
What's included is much of a muchness between the two as both offer:
Impact screen that can withstand hits of up to 250mph
Nylon surround kit
Piping kit & fittings
Bungees to secure the surround to the impact screen
Side barrier netting.
Put simply, the PerfectBay golf simulator enclosure includes everything the SIG12 enclosure does…and it's cheaper. Again, we'd highly recommend reading our DIY section before making a decision as there's a ton of money to be saved.

2. SIG simulator enclosure & impact screen kit
Shop Indoor Golf (SIG) is a major player in the golf simulator industry.
They have their own line of impact screens, hitting mats, landing mats, impact screens and complete golf simulator enclosures, which come in 3 sizes (total enclosure size listed below). Naturally, the size of the SIG enclosure and screen you choose is going to be based on your golf simulator room size.
SIG8: 8′ 4″ (W) x 8′ 4″ (H) x 13′ 7″ (D)
SIG10: 10′ 10″ x 8′ 4″ x 13′ 7″
SIG12: 12′ 2″ x 9′ 4″ x 16′
All SIG golf simulator enclosures include:
SIGPRO premium golf impact screen which can withstand shots of 250mph
Poles and connectors (push fit)
Golf enclosure protection (foam padding)
SIG premium material for the sound
6″ bungees to secure the surround
Side barrier netting
Prices at time of writing start from $3099 for the SIG8, $3599 for the SIG10 and rising to $3999 for the SIG12. In comparison, you'll see in our DIY golf enclosure section, we managed to build a reasonable 8×8 sim enclosure for less than $2k.
Whilst that's not unreasonable for a complete golf enclosure and impact screen, it does lead us back to DIY golf simulator enclosures. This section of our page here covers that, and could lead to a saving of around $1000 compared to a SIG golf enclosure and impact screen.
3. SkyTrak Studio Enclosure Kit
SkyTrak are better known for their launch monitors. Since they launched back in 2014 they've sold well over 70k units, and that's only going to increase with the launch of their SkyTrak+ (new for 2023).
Recently, we've come across their Studio golf enclosure and impact screen deal which sits at $2499. That's around $1000 cheaper than the likes of the SIG10, and $1500 cheaper than a SIG12 enclosure we mention below.
Most sim retailers bump the price of their enclosures as the size increases. As we can see above, the SIG12 is $500 more than the SIG10. Makes sense…more material = higher cost.
But that's where SkyTrak differs; the prices are the same regardless of size. So the bigger the golf enclosure and impact screen kit you need for your sim room, the better the deal is going to look when buying from SkyTrak.
With that said, you can save nearing $1000 by buying a DIY golf enclosure and impact screen kit. You can read about DIY enclosures on this section of the page.
Budget option: golf impact screen, hitting net & side barrier netting
Don't have $2000-$4000 to drop on a golf simulator enclosure kit? There is another option, and that's to have a basic practice setup combining an impact screen, hitting net and side barrier netting.
A cheap golf simulator enclosure option comes from GoSports. If you take a look at their 10' bundle, you'll see if comes with:
Golf impact screen
Hitting net
Side barrier netting.
And you'll be able to get all that for less than $1000. When you consider you're looking at $2000, $3000 and beyond for the next step up (complete golf enclosure), it's a good option for those on a budget, and you can check it out here.
That said, if you can stretch, a $2k-4k+ sim bay isn't the only option. Read our section covering DIY enclosures, where we put together a golf enclosure for under $1,700.
The 4 top stores that have golf sim enclosures for sale
Want to jump straight over to retailers that have the best golf sim enclosures for sale? Top Shelf Golf, Rain or Shine, Shop Indoor Golf and Carl's Place are our top picks. Carl's Place is our current overall recommendation, as they are the most competitive retailer for DIY enclosures (which is what we recommend in this guide).
FAQ
Do you need an enclosure for a golf simulator?
You can simulate your golf practice without an enclosure and impact screen, but you'll need to check data manually using an app.
How big of a room do you need for a golf simulator?
This will be dependent on the size of your enclosure and screen. At the small end, you'll need around 9 ft width, 14 ft depth and ceiling height of around 8.5 ft (the more the better).
How much space do I need between my projector and golf impact screen?
This depends on your throw ratio. Using a 0.5 throw ratio, you'll need 0.5 ft of space for every 1 ft width of image projected.
So if you have a 12 ft screen and 0.5 throw ratio, your projector needs to be 6ft away from the screen. A 1.0 ratio would mean you'd need to mount it 12 ft away from the impact screen.
Can you hit golf balls into a normal projector screen?
No, a normal projector screen isn't suitable. You'll need a hitting screen that usually comes as part of a simulator enclosure, most being able to withstand shots of up to 250 mph.
What are the dimensions of a golf simulator enclosure's frame?
Different manufacturers will have different dimensions. As an example, the SIG enclosure dimensions are as follows:
SIG8 – 8′ 4″ (W) x 8′ 4″ (H) x 13′ 7″ (D)
SIG10 – 10′ 10″ x 8′ 4″ x 13′ 7″
SIG12 – 12′ 2″ x 9′ 4″ x 16′
Building a DIY golf simulator
If you've taken our advice, you'll be heading for a DIY golf simulator enclosure (jump to the DIY section here).
But, what else do you need to know? Mats are not included in this guide as they're usually sold seperately. Our guide to best golf mats is here.
You're also going need a bit of tech. For that, read our guide to the best golf launch monitors here.
Or, if you're looking for more of a generic guide, check out our DIY golf simulator page.